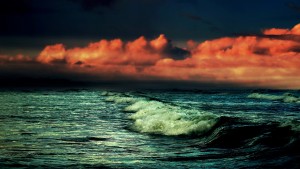 The meditation expert Jon Kabat-Zinn wrote, "You can't stop the waves, but you can learn how to surf." Years ago, I used to wipe out royally in the waves of my moods and my life conditions almost constantly. Today, I'm happy to report that my surfing has much improved. Here are some of the things I've learned.
Don't identify with the waves. Yes, you are inextricably connected with everyone and everything, including the waves. But, just as when you dance you are not the music, when you experience mood changes and shifts in your life conditions, you are not these moods or conditions. They are just waves, or music, passing through. They will not be here forever, and when you don't get confused about your identity (thinking that the waves are you, or that they will always be exactly as they are in this moment), they don't pose a threat to your core experience of serenity, joy, and divine connection.

Be entertained by the waves. In fact, when you – "wear this world as a loose cloak about your shoulders" (i.e. don't overly identify with it, and remember that it is utterly temporary), the conditions that come and go can be entertaining and even pleasant. After all, surfers do like waves. If they just went out into the middle of a still pond with their surfboards, they'd definitely get bored. In other words, if there were no variety to our moods and life experience, we wouldn't be able to tell the difference between pleasure and pain, or happy and sad, and those gradations are what make life so heart-breakingly and heart-expandingly beautiful. That's the stuff that art is made of. Which brings us to…
Ride the waves artfully, and don't fight them. Fighting the waves is an exercise in futility and frustration. (Examples of fighting the waves would be suppressing or ignoring your emotions, or saying things like, "Why me?" or "I hate it when I'm this mood! I need to get happy right this minute!") But channeling their energy into beauty, healing, and personal growth is the most gratifying and worthwhile of exercises. To do this, we begin by breathing consciously and relaxing, and then really tuning in to how we are feeling. We breathe into the pain or the challenge, rather than trying to breathe around it. Then we might inwardly ask things like:
How do I feel right now?
How do I really feel right now?
What do I feel like doing (or not doing)?
What do I really feel like doing (or not doing)?
Within the seeming framework of this moment, how can I best nurture myself right now?
Maybe we will feel like taking a bath, or listening to music while we work, or baking cookies, or taking five minutes to meditate, or doing some light stretching exercises, or finally paying the stack of bills that's been piling up, or silently reciting an affirmation, or lying around and watching a sci-fi movie. When we ride the waves artfully and responsibly, we can choose activities that nurture us: not binging on ice cream or compulsively exercising, but maybe having a little treat or doing a lightly challenging workout when we could use one. Like a loving parent, we can be generous without being indulgent, and responsible without being strict. Riding the waves has a whole lot to do with balance.

Look at it as a lifelong practice. In the past, when I "wiped out," or got overwhelmed by my moods or life conditions, I felt like I was a failure. I would beat myself up and say things to myself like, "shouldn't I be over this by now? I thought I was so evolved, but obviously I was wrong since I'm back at square one." Now, though, I just look at it as a learning experience and get back on the board. If I temporarily get frustrated by life, or overwhelmed by my emotions, I don't think of it as being "back at square one," I just think of it as part of my practice. Sometimes you wipe out, but every time you get back on the board, you are stronger and more experienced. After all, every surfer knows that wiping out every now and then just comes with the territory.
(By the way, my book, The Art of Bliss, is all about riding the waves of your life experience in the most artful and harmonious of ways.)