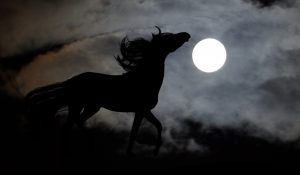 This spell is excerpted from my book, Holistic Energy Magic. 
Nightmare Transmutation Charm
When you have a nightmare, instead of banishing it or stuffing it down, embrace it and reclaim the energy that has been co-opted by your fear. This little spoken charm will help.
With your elbows in against your sides, angle your forearms up, palms facing out, and touch your little and ring finger tips to your thumb tips, with your index and middle fingers extended.
Take three deep breaths through your nose, breathing out through puckered lips.
Then say:
This dream is a wild mare that has run to me
In the night, and I listen to its teaching.
I feel the fear, and now it changes into love.
I feel the love, and that love is also strength.
I feel the strength, and that strength is also power.
I feel the power as a bright and glorious surge,
And I give thanks for the wisdom of the mare.
With hands still in the same position, finish up with three more breaths through the nose and out through puckered lips.
For frequent or recurring nightmares, do this faithfully until they effectively change or subside.