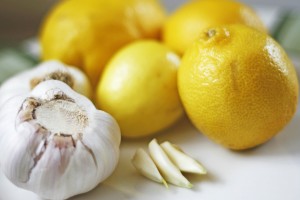 If you've read my post, Divine Medicine for Those Under-the-Weather Days, you know that I find value in colds, and in the self-loving, self-nurturing opportunities they present. And, since the full moon today is in Cancer (and what could be more nurturing than that?), and also since I can feel my immune system fighting off some sort of cold-type thing, I thought today would be a good day to share some of my favorite immune boosters for those days when I feel some signs that a cold may be attempting to assert itself.
I should clarify that although I find value in colds once they arrive (i.e. enforced relaxation and stress relief), I still do everything in my power to dissuade them from arriving, and I find just as much value in this. I sort of imagine the whole dance to be similar to walking on a balance beam. If you can wobble and not fall off (i.e. fight off the cold before it arrives), you can still find value in rediscovering your ideal balance. But if you do happen to fall off (and catch the cold after all), that's fine too. Just take a moment, get back up, and find your balance once again. Whatever happens is perfect for the degree of inner equilibrium your intrinsic healing wisdom is seeking to reestablish.
You may feel drawn to do all of these things, or just some of them. See if you can tune into your inner healing guru and follow her guidance.
Stay hydrated. Drink lots of pure water, and possibly some coconut water or other fresh juice (but mostly water!) to stay hydrated and to help your body purify itself. Consider adding fresh lemon juice to your water for even more purification and energy field strengthening. 
Sweat it out and stay warm. Take a super hot bath with epsom salt or soak your feet in warm water as you drink a cup of hot herbal tea (see below for ideas). Then put on some warm jammies or clothes (and dry your hair if necessary). You might also make a point of consuming some warming herbs such as ginger or cayenne (perhaps by adding them to food or beverages, or taking in capsule form) to help your body sweat. Staying warm will help you to relax, and will help your immune system conserve energy for fighting off infections. Sweating will help your body to cleanse.
Diffuse eucalyptus oil. Diffusing essential oil of eucalyptus oil in your space can help soothe and stimulate your respiratory system while enhancing the healing atmosphere and uplifting your spirits.
Drink herbal tea. I like Yogi Tea's Cold Season Tea or Traditional Medicinal's Throat Coat. You can also, of course, make your own blend or find something that resonates with you.
Take EmergenC. I always like to keep some packets of EmergenC on hand and take a couple per day while my immune system could use a boost. You might prefer something like Airborne (same type deal).
Use a neti pot. Oh how I love my neti pot! If you've never used one, it seems like it's going to be awful, like getting water up your nose when you're swimming, but really it's quite pleasant. Here are some instructions on how to use one.
Kundalini Yoga Immune Boosters. On this yoga DVD, Ana Brett and Ravi Singh offer an awesome, gentle little set for immune boosting.
Take it easy. When I was a kid, my dad used to insist that working out was the best thing for a cold. Although I've turned out to be quite the exercise buff myself, I am not so sure that this is true. For me at least, taking it easy – going light on the exercise and heavy on the rest – seems to be the way to go on those days when immune boosting is of the essence.
Eat fresh garlic. Although my boyfriend is NOT a fan of this cure, sometimes I like to cut an entire clove of garlic into little pieces and swallow them one at a time like pills. This definitely seems to give me an energy buzz, strengthen my personal energy field, and boost my inner equilibrium rapidly and in a noticeable way.
Don't eat dairy. As many of you know, I am a vegan and I never eat dairy. But if you aren't a vegan, when you're fighting off a cold, it's extremely important to cut out the dairy. This is because dairy generates mucous, and coaxes congestion to relax and stay a while. Before I was a vegan, I used to get those coughs that hung on and on for weeks (or even months!), like at least once a year. Now, I never do. Although I might get some congestion for a few days, it clears right up.
Take Rescue Remedy. Rescue Remedy is great for relieving the stress that may have contributed to the immune challenge in the first place, and for generally helping your body to come back into balance.
Maybe you have other self-nurturing, immune-boosting favorites?