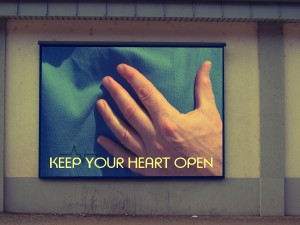 As a living being on this miraculous earth, each one of us – like a drop in a vast ocean – is an inextricable part of the whole. But in this current incarnation, it can sometimes seem like we are fundamentally separate from everyone and everything. This, of course, is an illusion, but it can appear very real. And, because this illusion is almost always present during this lifetime to some extent, a feeling that might be described as longing, loneliness, or heartache can underscore our entire life experience.
Although this might sound like a dreary thing to point out, I am proposing that it is the opposite. First of all, I will admit that it is definitely dreary if we constantly try to fill or drown out the emptiness with things like drugs, alcohol, food, television, shopping, clutter, excess drama, or overwork. But if, on the other hand, we open our heart to feel our feelings, bravely embrace the emptiness, and boldly embody the longing, we open the door to all of the things that make this life so sweet and so precious. For example, all real and true, deeply satisfying connection comes from being grounded in this feeling of longing, whether you're connecting with nature, the moment, or another living being. What's more, you might say that all great art, as well as all recognition and appreciation of great art, is born of this primordial human heartache.
Consider that the tears we cry at a funeral and the tears at our own wedding are not so different from each other: both stem from being overwhelmed with love and the preciousness and transience of life.
Opening to this flow of emotion and longing can make the difference between a pleasant day and a transcendent one, or a depressed mindset and a hopeful one. But how to do it? Here are some ideas for how to get into the flow.
Breathe consciously. This sounds simple, and you've heard it a million times, but it really is exceptionally effective. You might begin by taking three deep, conscious breaths as you relax your belly, shoulders, and chest. After that, don't force your breath, just let it be natural. But notice and be conscious. Even if your breathing is shallow at first, in time, if you continue to witness your inhalations and exhalations, they will begin to deepen and your body will begin to open and relax. When you realize that you've forgotten to watch your breath, don't worry about it! Just start over.
When you practice this, your emotional connection will slowly and steadily deepen until you are bravely breathing into and experiencing your longing in a way that feels nourishing and inspiring. You might find yourself tearing up more easily, as your senses and emotions will begin to seem much more acute. Remember: think of this as a lifelong practice, and don't beat yourself up if you forget for a while. Just release judgment and begin again.
Give gifts. Every single thing you do can be an act of generosity and devotion. What I mean is, all actions and thoughts are energy, so if you consciously direct that energy toward the intention of giving a gift to the divine, to a cause or organization, or to another being, or to the entire web of life, you are honoring your longing and reinforcing your conscious, loving connection with the whole, with All That Is.
There are obvious gifts, such as a loving embrace of a loved one or a day of volunteer work at a local charity. And then there are less conventional ways to give, such as inwardly dedicating your dish washing efforts to the God/Goddess/All That Is, watering a plant with loving attention, or using your time stuck in traffic to bless and send love to the drivers that surround you. See how many ways you can give, and reap the life-sweetening benefits of your ever-present human yearning.
Follow your own unique path and have fun. What sounds like the most fun and magical thing you could possibly spend your free time on? Studying classical mythology? Hiking in nature with a friend? Belly dancing? In each free moment (even if we only have five minutes) we have the opportunity to take a single step (such as a google search or a few minutes of reading or exercise) toward trying something new or deepening our expertise at an established hobby or skill. This is not only a way to channel our longing in a satisfying and constructive way, it's also, ultimately, the path that will lead us toward expressing our unique talents to the fullest, so that we can channel them toward generously blessing the world with things like beauty, wisdom, and healing.
In The Artist's Way, Julia Cameron provides this excellent journaling exercise to help us get in touch with some of the things our heart of hearts might be longing to do: five times, without thinking too much, complete the sentence, "If I didn't have to do it perfectly, I would try…"
You might also try these similar exercises to tap into your heart's expansiveness:
Five times, complete the sentence, "If I had all the time in the world, I would love to…"
Five times, complete the sentence, "If I had all the money in the world, I would…"
And my book, The Art of Bliss contains lots of fun exercises aimed at helping you get into your most ideal life flow.