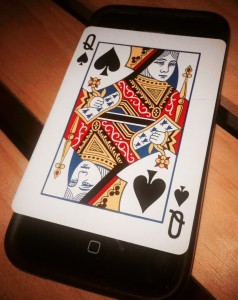 Smart phones are very useful things! They're also fun, and handy, and have become all but indispensable in our modern world. And, it's becoming increasingly obvious that if we're going to feel peaceful, joyful, and connected to the physical world around us, we're going to need to learn some healthy habits when it comes to giving the cell phone compulsion a rest.
That's why some people have started doing digital detoxes and even paying good money for apps that block social media sites for prescribed amounts of time.
Call me old-fashioned, but when I realized I needed some quality time away from my phone, I didn't want to accumulate another digital thing to help me combat my reliance on digital things. It just seemed too cluttery and absurd.
So instead, I pulled out a trusty old deck of Bicycle Playing Cards, and rifled through until I found the Queen of Spades. I turned off my phone, placed the Queen face-up on top of it, and wrote a note with a time of day of my choosing that I could look at my phone again.
And would you believe it worked?
I've actually been doing it for a little while now. I attribute the method's success to the Queen's no-nonsense face, as well as her solidity and physicality. She is not an image on a screen. She is card, like the kind my grandma used to play solitaire with. And most importantly, she reminds me that I have chosen to live in the world without my phone for a certain, digital-distraction-free length of time.
Remember that childhood game, where you would say "jinx!" when you said the same thing at the same time as someone else, and then the "jinxed" person was not allowed to speak until someone said his or her name? Of course, when you were the jinx-ee, you absolutely did not talk. Not because you couldn't, but because it was what made the game fun. There was something neat about not being able to speak because you decided it wasn't allowed.
It's the same sort of thing here. Of course, if you wanted to, you could remove the card and check your phone. There's nothing technically stopping you. But because you've chosen not to, and that queen is staring at you with that serious "thou shalt not pass" look in her eye, the chain of compulsion is broken. And you are free to do things in the world without the distraction of your phone: clean, have a conversation, listen to raindrops, take a walk, or just sit – quiet and alert, in the vast magical brilliance of your own eternal mind.