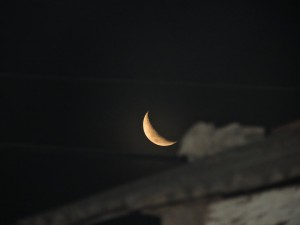 Yesterday was the full moon. From a magical perspective, this means that the energy has peaked and is now waning, allowing us to more easily let go of things that no longer serve us. And as the nights get longer and we begin to cozy in for the rest of the year, it's a good time to go inward and tend to ourselves. Plus, by letting go of things that no longer serve us right now, we'll have a head start on our "New-Year-New-You" endeavors when January 1 rolls around.
Maybe you already know what you want to let go of. But in case you don't, or you're looking for some inspiration, here are five ideas.

Maybe you could let go of…

1. Negative Self-Talk. So many of us can get in the habit of having an internal dialogue that is critical and unloving. Right now is a great time to become conscious of this, and then shift it. To begin to do this, you might take 5-10 minutes just to sit quietly each day, noticing your breath as it goes in and out. Whenever you notice your mind wandering from the breath, simply return to the breath again. Then, choose an affirmation that is in opposition to some of the most critical thoughts that you often have. For example, if you often have critical thoughts about your body, you might choose the affirmation, "I love my body and I feel great in my skin." Recite it inwardly as you drive to work or exercise in the morning, and whenever you think to return your mind to this affirmation, do it. As you recite, don't just think the words, but feel them too and will yourself to believe them. Then, whenever you notice your thoughts straying to the negative, simply recite this mantra inwardly again and again. Over time, this will create powerful shifts in your inner thought patterns, which will create powerful shifts in every aspect of your life.

2. White Sugar and White Flour. White sugar and white flour are in so many mainstream and packaged foods, but there is absolutely nothing nutritional about them, and they can even contribute significantly to all kinds of minor and major health problems. Not to mention, in the immediate present, they will in no way contribute to your feelings of healthy vibrancy and holistic wellness. Instead, seek out items made with whole grain (or no grains) and natural sweeteners like organic sugar, agave, fruit juice, coconut nectar, or (real) maple syrup.
3. Worry. Going over and over potential negative things that may happen in the future (or positive things that might not) is a waste of energy and a misuse of your magical power, as, according to magical/metaphysical law, what we focus on expands and energy flows where attention goes. To shift habitual patterns of worry, you might employ the flower essence called White Chestnut, remind yourself again and again that you are safe and everything is conspiring to support you, and/or do something similar to the exercise suggested in the "Negative Self-Talk" section above.
4. Dairy. Every year in the fall/winter months, since I was a child and into my mid-twenties, I used to get that phlegmy cough that would hang on and on for weeks and months. Then, I gave up dairy, and it never happened at all, ever again. Yes, I might catch a cold for a few days to a week, with something like that cough showing up for a second, but it never ever hangs on anymore like it used to. That's because of all the mucus in milk. Not only that, but humans don't need dairy at all and it's even harmful to us and the planet in a number of ways. If you don't believe me, do me a favor: watch Forks Over Knives, and then see what you think after that.
5. Postponing Joy. Do you ever think something like, "once such-and-such happens, then I'll finally be able to relax and be happy?" That's postponing joy. The truth is that right now, in this very moment, everything is perfectly unfolding. You are surrounded by a loving universe: people, animals, and plants that support your well-being and that you can reach out to right now to give and receive love and emotional sustenance. Life is uncertain – you never know how much longer you may have to enjoy it, or how much longer your loved ones have. Although this sounds gloomy, when you accept it as the truth, it gives everything a miraculous shimmer and takes away all excuses for waiting one more minute to experience your joy. So breathe in your joy right now – this very minute – because that's all there ever is!
…Other ideas? Things you've been meaning to give up or let go of? Now is the time!