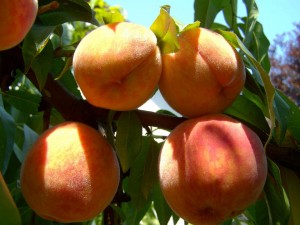 My dear friend Janine just brought over an abundance of peaches from the tree in her yard. I ate one (it was delicious!), and then I was reluctant to put the pit in the compost because it was radiating such powerful magical power! Perhaps I've never noticed a peach pit radiating power like that before because I've never (have I?) eaten a peach that was a gift from a friend's yard, rather than a peach that was grown in a huge orchard for profit and then purchased from a grocery store. Never having used a peach pit in any spell or ritual that I could recall, I looked it up in my most beloved magical ingredient books. Here's what I learned:
In Cunningham's Encyclopedia of Magical Herbs, Scott Cunningham writes, "Children in China wear a peach pit suspended about the neck to keep demons away."
In The Element Encyclopedia of 5000 Spells, Judika Illes writes, "The peach is the primary protective tree of Chinese metaphysics. Carve peach wood or a dried fruit pit into a shape that represents protection for you, and carry it in a charm bag."
Aha! Protective magic. That's what it was radiating. So, looks like I'm going to be drying and saving my peach pits for all kinds of protection magic. For example, perhaps I'll:
Empower a peach pit in sunlight and tie it into a small charm bag with a pinch of yarrow and a clove of garlic as a powerful protection amulet.
Figure out how to adorn a peach pit with sparkles and ribbons, and then hang it from my rear view mirror to protect my car and all its occupants.
Place an empowered peach pit on either side of my front door to ward off all forms of negativity and ill will.
…After I eat all the peaches Janine brought, I'll have plenty of pits, so if I ever feel like working protection magic, I'll have a go-to ingredient for years!