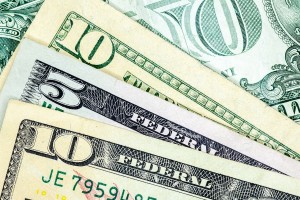 (This ritual was originally published in Llewellyn's Spell-A-Day Almanac and on the Llewellyn Spell-A-Day blog. It's best to do it on a Thursday, Monday, or Sunday when the moon is waning.)
To manifest abundance, we must first clear away energetic congestion and create the space for wealth to enter. This ritual is a bit time consuming, but it's worth it. Make sure you drink water throughout.
Clear as much clutter as you can from your home.
Add eight drops of cedar oil to your cleaning solution(s) and thoroughly clean your house.
Go through your wallet and/or purse, discarding receipts, gum wrappers, and other extraneous items.
Shower or bathe.
Light eight sticks of frankincense incense and hold them together in a bundle. While holding a dish under the incense to catch ash and embers, walk around the perimeter of each room in your home while repeating: 
I now clear the way for wealth to enter.
Once you've finished, burn the incense around your wallet and/or purse, and then your body, while still repeating the magic words.