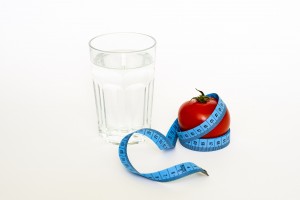 (This ritual was originally published in Llewellyn's 2011 Spell A Day Almanac and on the Llewellyn Spell-A-Day blog. It's best to do it on a Sunday during a waning moon.)
This magical weight-loss strategy works on the vibrational level to create positive shifts in your mind, body, and emotions. And today is a great day to begin!
Obtain a 32-ounce (or so) water bottle that you really love. With a permanent marker, write "lightness" on the outside of the bottle. Then write "joy." Fill the bottle with water and add 2 drops of crabapple flower essence (available online and at many health food stores). Hold it in both hands and visualize a very bright white light filling the water as you say:
Goddess, please establish lightness, beauty, and perfect health in every cell of my being.  

Throughout the day, drink the entire bottle of water and then repeat. Each day, drink two empowered bottles of water until you reach your ideal weight. Over time, you'll notice your habits naturally starting to transform into healthier ones. Allow this to happen.