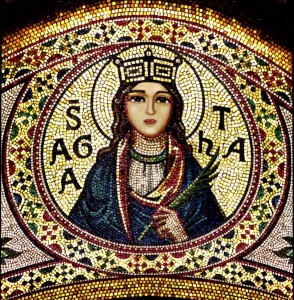 Saint Agatha is a beloved saint in Sicily (where she lived and died, and where she is the patron saint of Catania) and elsewhere in the Europe. Today is her feast day.
According to Judika Illes in The Encyclopedia of Mystics, Saints, and Sages, she very well may be a surviving incarnation of the Divine Feminine:
"Agatha's iconography and attributes (snakes, metal implements, bells, even breasts) bear a powerful resemblance to that of the goddesses once venerated in Sicily prior to the advent of Christianity, in particular Isis, Demeter, or Aetna, the goddess of the volcano with which Agatha is so closely associated…Some devotees and scholars suggest that the secret veneration of one or more of these deities may hide beneath the saint's veil."
In a number of pictures of Saint Agatha, you'll notice chains and also a cutting instrument, as a reminder of the story of Saint Agatha's martyrdom, during which she was tortured at great length and her breasts were severed. While she was said to be miraculously healed before her martyrdom, she is still often depicted in the throes of her torture, or with breasts on a platter. As mentioned in the quote above, she has also been associated with the volcano Mount Etna, and it's said that her veil prevents it from erupting, (In alignment with Saint Agatha's association with ancient earth goddesses, the volcano has been associated with a breast, and it's eruption with breast milk).
Considering the fact that feminine sexuality was so belittled and vilified, and the ancient Mother Goddess religion was so violently suppressed by Christianity, the Saint Agatha story seems to be in alignment with this horrifying disrespect and brutality. Although it's quite intriguing that this story survives within the context of Christianity rather than outside of it. (It's also interesting to note that in this instance – as in the instance of Brigid becoming Saint Brigit and the Great Goddess of the Americas becoming the Virgin of Guadalupe – the Goddess and her devotees found a way where there seemingly was no way!)
Call on Saint Agatha for breast heath, nursing/breast-feeding, protection from fire and other natural disasters, protection from snakes, and to bless your bell(s). Today, her feast day, would be an excellent day to petition her. Perhaps create an altar to her with her image, a bell or bells, a candle, and carnations (her associated flower).