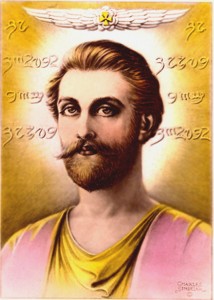 I'm a big fan of transmutation.  In fact, when the subject of transmutation just happened to come up in a phone conversation with my friend Sedona yesterday, I heard myself referred to as "Miss 'Transmute' Herself."  (I guess I use the term a bit more than I realized.)
Just what is transmutation exactly?  I define it as "the transformation of one type of energy into another for the purpose of affecting positive change."
To use an example from everyday life, think of a person who endures a tragedy, such as a mother experiencing the loss of a child to cancer.  Then, what does this mother have?  A whole bunch of sadness and anger and guilt and all of the trappings of grief.  Too much.  So much, in fact, that she knows that if she doesn't do something with it, it could be the end of her.  So she starts a charity to help prevent this type of cancer from taking the lives of other children.  This channels her grief into something constructive, and sets in motion huge waves of healing and positive change. (Which in turn would result in huge waves of healing/positivity being sent right back to the mother since what we send out into the world reverberates, gains momentum, and comes back to us multiplied.)
Magically speaking, we can transmute things before they even manifest into form.  What I mean is, our thoughts, visions, feelings, and intentions are our magical juice – the solar power that fuels our manifestation engines – right?  So if we start going into freak out mode, or we find that we are riddled with fear or envisioning exactly the outcome that we don't want to experience, we can transmute all the energy generated by those negative pictures/emotions right away so that we are more likely to manifest the conditions we want and not manifest the conditions we don't.
One way to do this is to call on Saint Germain, the ascended master associated with alchemical wisdom and transmutation.  To do so, take a deep breath or two and intuitively tune in to all the energy generated by your negative thought patterns.  Ask Saint Germain to send his "violet flame" into all of it, and to transmute it into positivity and blessings.  You might imagine that this is like crumpling up old papers and throwing them into a fire where they can be incinerated and the energy they contain can be released and transformed into light.
If the negative thought patterns continue for any length of time, continue to imagine this transmutation action taking place.
Similarly, if you have a (shall we say) "situation" on your hands – i.e. something that appears to generate a lot of anger and seeming discord – you can call on Saint Germain and the violet flame to transmute all of the negativity (from yourself and others) into good vibes and a resolution that is for everyone's truest good.
For a little extra help with the transmutation process, you might like to perform the following ritual.
Ingredients:
A tall glass jar or vase
Sea salt
Essential oil of peppermint
A violet candle
India Temple Incense
Fill the bottom quarter or third of the jar/vase with sea salt.  Add 40 drops of essential oil of peppermint.  Stir in a clockwise direction with your wand, a chopstick, or the end of a wooden spoon as you mentally charge the salt with the intention to absorb and completely neutralize any and all negativity/harsh energy, whether it comes from you, others, or the situation itself.
With a pen or nail, carve the words "Blessings" and "Good Fortune" into the candle.  Hold the candle in both hands and call on Saint Germain by saying something like:
"Saint Germain, please empower this candle with your Violet Flame, so that it immediately transforms and transmutes any and all negative energy into positive energy that powerfully manifests blessings and good fortune for me, my loved ones, and everyone concerned.  Thank you, thank you, thank you.  Blessed be.  And so it is."
Place the candle on top of the salt and light.  Next to the candle, light a stick or cone of India Temple Incense.  (After the incense burns out, feel free to light additional sticks/cones according to your whims.)
Allow the candle to burn all the way down (extinguishing and lighting again if necessary).  As the candle and incense burn, feel and notice them transforming negativity into positivity like nobody's business.