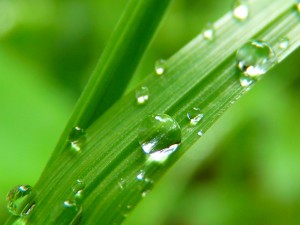 As healers have known since time immemorial, and as
Dr. Masuru Emoto
's research has documented, water has an inherent intelligence and tremendous potential to heal.  Vibrations created by thought, feelings, intention, and the natural world can actually permeate water and change its molecular structure.  This wisdom is the basis for this simple prosperity potion, that you can make anytime, anywhere.
Ingredients:
Water
Green Jasper Essence
Fill your water bottle or glass with water and add two drops of green jasper essence.  Hold the bottle or glass in both hands and see/imagine/feel it swirling, emanating, and pulsating with sparkly green and gold light.  Think the words:  "I am a magnet for Divine Prosperity, and I now happily receive and luxuriate in the infinite blessings the Goddess (or God, or Universe) is constantly showering upon me."
Drink the water and internalize the magic.