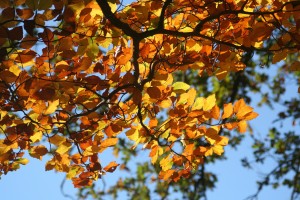 I love when rituals seamlessly merge with my everyday life experience. Like fall itself – when the light turns to darkness, the sun begins to set on another cycle, and the doorway between the worlds is at its thinnest – working with ritual in this everyday way lets us dwell in the place between the worlds, which is also the place of our greatest empowerment. The following ideas, when performed with intention, help us to live from this sweet spot: where form meets spirit, seen meets unseen, known meets unknown.
Clear out your pantry and fridge of all expired stuff and stuff you'll never eat. As you do so, take note of items that might make your fall a little bit cozier, like cinnamon for your coffee, hot cereal instead of cold, or spicy chai. Then bring them to the fore (if you already have them), or put them on the shopping list.In your journal, write "Accomplishments" at the top of a page. Then finish the sentence, "I congratulate myself for…" 20 times, choosing things that you've accomplished since the beginning of this year. They can be small or large, visible or invisible. "I congratulate myself for moving to a new home," "I congratulate myself for learning to trust even more deeply," "I congratulate myself for getting a new haircut," "I congratulate myself for laughing," "I congratulate myself for getting up in the morning." Think of it as a harvest celebration of sorts: a way to appreciate the fruits of your efforts.
Next time you get dish soap, get one with a scent that feels right for fall. I like Method's basil scent, or Mrs. Meyers' lavender.
Add a cozy throw blanket or two to a chair or sofa.
Decorate with clove or cinnamon scented candles.
Organize your closet so that your sweaters and hoodies are handy. Donate everything you don't really like or that you'll never wear again.
Autumnify your altar: choose a fall-colored cloth and candles, add a tiny pumpkin or two, and choose one or more framed pictures of deceased loved ones as focal points.
Bake something yummy.
If other ideas come to mind, share them!