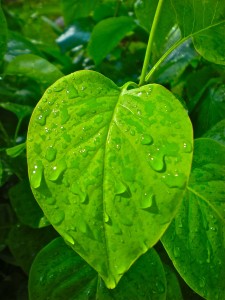 As the seasons change, it's sometimes helpful to have a bit of immunity magic in your back pocket. This ritual creates an aura of immunity and helps boost your natural positivity and vitality in order to discourage colds and other seasonal health challenges. It requires two physical ingredients, both of which might already be in your magical toolbox (and if they're not, they're good investments – you'll find them very useful for a number of purposes): Rescue Remedy and essential oil of eucalyptus.
While sitting in front of your altar, or somewhere else where you can center yourself and where you won't be disturbed, diffuse the essential oil in an oil diffuser, or simply float a few drops in a cup or pot of steaming hot water. Take four drops of Rescue Remedy under your tongue. Then, sit with your spine straight. Close your eyes and take some deep, relaxed breaths. Starting at your feet and moving up systematically, consciously relax every part of your body. If you find tension in any part of your body, breathe into it and send love into it it until it naturally relaxes and opens.
Next, visualize bright, golden white light starting at your feet and moving upward to fill your entire body. See the light bathing every pore, every cell, and every hair. See it filling and relaxing your inner organs. Feel yourself transforming into this light. When it reaches your head, see it expand outward so that you're completely cocooned in a sphere of golden white light.
Now, envision a gardenia. In your mind's eye, smell it, touch it, and make it as real as possible. Align yourself with this etheric gardenia. Speak to it lovingly and tune yourself to its vibration. Then, from a feeling place rather than a thinking one, send the energy of the gardenia throughout the sphere of light.
When this feels complete, envision a white quartz crystal point. Become one with this crystal point, and send its pure, highly vibrating, crystal clear energy throughout the sphere of light in which you are cocooned.
Next, call on Archangel Gabriel for help. You might say or think, "Archangel Gabriel, I call on you! Please fill and surround me with your healing light." Then, visualize, imagine, and/or feel Archangel Gabriel filling your sphere with emerald green, healing light. Also, like a wizard or alchemical master, see him turning this sphere so that it's gently spinning in a clockwise direction. This will help activate and "lock in" the powerfully healing vibration that now surrounds you.
Finalize the spell by saying,
"My mind, body, and spirit are in balance.
I emanate immunity. I radiate the bright light of vibrant health.
I am harmonized, shielded, and blessed.
Thank you, Gabriel!
Thank you, thank you, thank you!
Blessed be. And so it is."
(Of course it's also important to do your best to drink lots of water, eat plenty of fruits and veggies, get lots of sleep, and generally take care of yourself!)