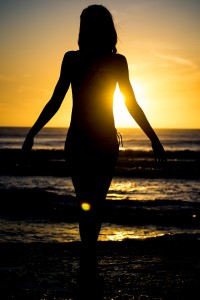 It's Summer Solstice – the time of fullness, fruition, and fiery strength:  the time when the sun is at it's height.  Additionally, it's the moment when the sun moves into the sign of Cancer, a water sign and the only sign ruled by the moon.  So while this time is characterized by the sun's qualities of extreme masculinity, brightness, and extroversion, it's also powerfully balanced by the moon's qualities of extreme femininity, gentleness, and introversion.
Though the sun and moon are both currently center stage, they are astrologically intertwined in a balanced way.  Achieving a similar internal equilibrium can help us alchemically transform our annoyances and agonies into opportunities and triumphs.  Here are some simple little ways that we can support ourselves in establishing this type of equilibrium:
Drink lots of water.  At least half your body weight in ounces is ideal.  This will balance the hot and/or dry weather and will transform languishing into cleansing.
Carry or wear a pyrite or lapis lazuli.  Pyrites are infinitely balanced, holding the energy of all four elements and transferring the energies that are most needed.  Lapis bring lightness, joy, healing, and fun.  If you've felt bogged down by old issues or responsibilities, a lapis can lift you out of the funk.
Take flower essences as needed.  If you find that you are emotionally out of balance in a particular way, or are experiencing a specific emotional challenge, research the Bach Flower Essences and see which one(s) might help.  Flower essences work on a subtle level to shift our consciousness in ways that help us experience real and lasting balance.
Do yoga.  Physical balance is emotional balance, and physical flexibility is mental flexibility.  Do yoga and cultivate an ability to coast through challenges like a surfer coasts through the waves.
Purge your closet.  Do you have clothes that you don't feel beautiful in?  Shed them like a snake sheds her skin and be new!  Letting go of the old can be even more fun that bringing in the new.  Bring balance to your wardrobe by unburdening it of that which no longer serves you.  Then donate!  Donating our unwanted stuff is extra-powerful magic because it immediately transforms junk into treasure.  Then, when we send that treasure out into the world, treasure (in a different form) comes back to us multiplied.
Celebrate!  Channel some of that excess Solstice energy into dancing and revelry and transmute tension into joy!