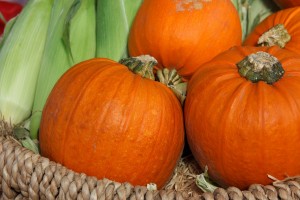 Thanksgiving is always on a Thursday, which is the day aligned with Jupiter, the planet of increase and expansion.  Magically and metaphysically, we know that
what we focus on expands
, and since we focus on our blessings during Thanksgiving, we naturally bring about their expansion. Furthermore, the most commonly recognized way to celebrate Thanksgiving is to prepare and enjoy an abundance of food. In other words, without being completely conscious of it, people everywhere are engaging in a powerful abundance ritual. Add consciousness to the mix, and you multiply the power.
Ideas for adding consciousness:
Expressing gratitude to Mother Earth for her bounty would naturally include treating her with the utmost respect. Whenever possible, choose the gentlest ways to celebrate: for example, choose vegan, organic, and local whenever possible.
In the morning, light a candle and brainstorm every blessing you can think of, big and small. See if you can fill at least an entire notebook page with blessings. Then fold it up (toward you each time) and hold it between your two palms, with your hands in prayer pose. Close your eyes and visualize a golden, honey-like light of abundance pouring down over you as you feel gratitude radiating out from your heart. Place the page under the candle, and allow it to continue burning, or (if you have cats or small children), extinguish the candle and place a crystal on top instead.
Eat mindfully, and consider all the countless ways that the food that you're putting into your body has come into its present form and location. The farmers, the rain, the sunshine, the fieldworkers, the drivers, the grocers, the preparation, and all the little details that made it taste exactly as it tastes. Marvel at the vast web of interconnection contained within each bite.
Take note of the abundance. Revel in it. Look at all the food, all the loved ones, all the things that you have an abundance of, and really feel how blessed you are. Take note of how wonderful it feels to have an overflowing cup.
Everything is always changing: the appearance of things is fleeting, and each moment is unique. With this in mind, profoundly treasure each person and animal in your presence. Express your love and adoration deeply, as if it's your last chance to do so in this physical plane.