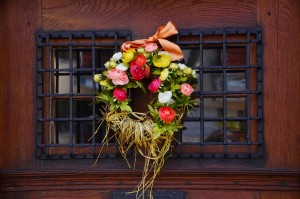 Yesterday, Ted and I did some feng shui fine-tuning in our space. After improving a particular area with some lovely new upholstery, Ted had a wonderful insight. "A big part of the whole feng shui thing," he said, "is that by making your house so that you love it right now – rather than thinking, 'oh, that's not perfect, but some day I'll fix it,' you remind yourself that you can change things in your life for the better, right this very minute! Not just in your home, but in your life in general. Feng shui helps keep you in that head space."
As you can imagine, I was overjoyed that he would have this direct insight into the way feng shui works. "Yes!" I said, "It's like surrounding yourself with affirmations of empowerment."
Sometimes I have clients who say, "You know, I'd love to do [this or that], but I'm probably not going to be here that long. I'm hoping to move soon anyway." But, while it might seem counter-intuitive at first, I have found that making the most of where you are now – fully loving and embodying your present space – is the surest way to move forward in the ways that you most dearly desire, even if that includes moving to a different space in the near future.
I've watched the pattern again and again, both in my own life, and in the lives of my clients: if you desire to move to a new location, improving the vibration, appearance, and feeling of your present space to the fullest possible extent is like a magical key that opens doors to your most ideal new circumstance.
It's like that Robert Frost quote, "The only way round is through." We don't want to live our life devaluing the present in favor of some idealized future that never arrives. Because let's face it: the future never does arrive. It's only the present moment, forever and always. So to make that eternal present moment the most beautiful and exciting adventure possible, choose to love where you live right now. Notice if there are any small changes that you can make today that will help you feel empowered and inspired in your present space. And watch your life blossom!
Here are some other posts that may help with this endeavor (depending on the particulars of your present living situation):
Living Well in Smaller Spaces
Transitional Feng Shui: Finding Sacred Space Within
DIY Feng Shui Tune-Up