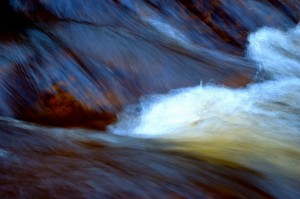 "Rivers course through the oceans of earth. You call them 'streams' or 'currents.' In just the same way, great streams of living music wander the universe. All the universe is an ocean of music."
-Douglas Anderson in The Planet of Waters
Where do styles come from? What exactly are the things we call "trends," and where do they originate? Why do people in one area tend to think and dress one way and people in different areas tend to think and dress another way? Why does something suddenly seem "in" to so many people, while something else suddenly seems "out"? Why do different regions, and time periods, and groups have a certain intangible but nevertheless discernible feeling, or flavor?
We do in fact dwell in a sea of energy. From a magical/energetic perspective, there are invisible currents of energy that come from various sources: the cosmos, the oceans, the seasons, other humans and animals, areas of land, and the core of the earth itself. Everything is in flux, like the giant pulsating, swirling, kaleidoscopic sea of ether that it is. And, like certain areas of the ocean lend themselves to coral reefs, others to historic shipwrecks, and others to dark depths and phosphorescent creatures, each time period and region is characterized by unique, perceptible qualities.
With this in mind, it's no wonder staying up with the changing times is known as keeping things "fresh" and staying "current."
Similarly, just as each creature and mineral in the ocean responds differently to different temperatures, depths, and currents, so too do we each embody the energies of time and place in ways that are unique to us. In other words, moving with the current is not about "following the trends," but about being in our own most vibrant and ideal flow, whatever that means to us.
And, just as the seasons and currents are in constant, beautiful flux, so are we always changing and contributing to the planetary changes around us. While yesterday we may have loved our bright red bathroom, today we may want to paint it pumpkin orange. A picture we may have always enjoyed may suddenly stop speaking to us, and we may suddenly realize we're craving a painting of a mermaid instead, or a forest, or a fountain, or the ocean. We may have a style epiphany and go scouring thrift stores for that perfect funky hat or scarf. Our career or hobby may take a delightful and unexpected turn. Or we may sense that some aspect of our consciousness or perspective feels stagnant and realize that we want to take a class, or go on a retreat, or read a certain book, or have a conversation with a certain friend. The important thing is that we are awake to this invisible flow and consciously surrender to its magnificent influence.
No matter how old we are, where we live, or how happy or settled we may feel, being open to new ways of seeing and being in the world – i.e. keeping our consciousness fresh and our perceptions current – infuses us with aliveness, excitement, and energy. By tapping into and following our own natural flow, and the flow of the universe, and letting it move through us and animate our lives, we keep our hearts joyful and contribute to the ever-shifting, ever-evolving beauty of the planet.