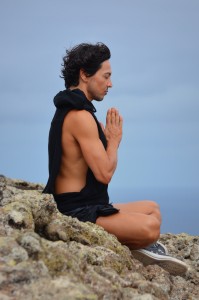 How many meditations and yoga exercises have you encountered that begin with some variation on, "sit comfortably, with your spine straight"? What is the big deal with a straight spine anyway?
Although it may seem subtle at first, the answer to this question is something that you can feel for yourself. For example, do it now. Wherever you are sitting, straighten your spine. Feel the weight of your body on the earth and the crown of your head facing toward the sky like an open blossom. Now, become aware of the flow of energy from your tailbone to the top of your head, and from the top of your head to your tailbone. Once you feel this feeling, you can even notice that this energy flow reaches deep into the earth and stretches high into the heavens.
Just for experimentation purposes, alternate between slouching and sitting with your spine straight, and notice the difference in your mood, energy level, and general feeling of connection and well being.
Like a tree that receives nourishment from both earth and sky, we are connected to both and are like superconductors between the two. When our spines are straight, this energy flows in the most healthy, vital, and abundant way, which in turn nourishes our organs, energy level, and mood with life force energy. Also, our chakras are more likely to work together harmoniously and stay balanced, activated, and cleansed.
What's more, since this life force energy is what constitutes our healing power and magical electricity, through our hands or focused intent, we can channel this life force energy for the purpose of healing or manifestation.
So, no matter what you are doing – driving, working, sitting, standing, etc. – as much as possible and appropriate, cultivate a relaxed, upright posture and allow that life force energy to flow.