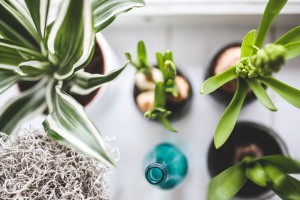 The following is an excerpt from Sara Wiseman's fabulous new book, Living a Life of Gratitude.
A study was done in which plants were played different kinds of music. [See The Secret Life of Plants]. Some of the plants were played rock music. Some were played country western. Others were played classical.
The study, done by a music student forced to take required science courses, was scoffed at first; the organization in charge was somewhat embarrassed that the study had even been authorized. However, as these things often happen, the plants themselves began to show such amazing results that the study could no longer be ignored.
The plants did not like rock music, and moved their tendrils away from the source. When they heard a series of notes repeated in a sequence without variation 24/7, the plants died. The plants didn't care one way or another about country music. They moved toward the speakers when classic music was played.
The most interesting thing in my mind, however, was that the plants loved Indian raga. More specifically, they loved Indian raga as played by spiritual teacher and musician Ravi Shankar. They moved toward the music. They thrived in this music. They grew bigger, stronger, thicker.
Now, if you have not heard raga, it is a kind of traditional, ancient devotional singing that has a tonal system that can bring out spiritual awakening, spiritual opening, and the highest forms of bliss. It's been sung in temples, in kirtan, for thousands of years. The Beatles brought it to the West in the 1960s after they traveled to India and met their guru. It is wildly popular with conscious community all over the world, where people sing it in a modern way. It is available widely on iTunes; in fact, as I write this I am listening to Ravi Shankar's recording "Raga Mishra Gara," and smiling.
It's hard music for the Western ear to hear, but once you get used to it, there's a craving to hear more. As if the soul is so deeply satisfied by this music, so deeply enveloped and expressed, that we are balanced or aligned in this music. We become whole.
The tonal scale in this music creates bliss in the human body as it has been doing for thousands of years. This tonal scale also creates bliss in plants, and we would begin to wonder if this is not true of all living beings.
You do not need to learn raga to be in bliss. But it is interesting how music – music of a certain high  vibration, music that is spiritual and devotional in its intent – continually creates healing in our bodies, in our minds, in our emotional state and in our very being.
When we listen to this kind of music, something about us becomes whole.
Singing bowls, toning, shamanic percussion, gongs, the crystalline vibrations all possess this high vibration. New Age music that plays the sounds of whales singing or the sounds of space also does. Computers that play mathematical sequences of DNA make the most beautiful music. The sounds of Buddhist monks chanting, the sounds of Indian raga, the newer sounds of healing music – we don't know how it all works. But we are beginning to hear that it does.
****
Listen to some raga today. If you are not sure what to listen to, try Radhe's Dream by my band Martyrs of Sound, or Queen of Hearts by Jai Uttal. Put on headphones, relax on your bed, sofa, or floor, and spend an entire hour in the healing tones and sensations of this music. You will find your mood lifted, your heart opened, and your sense of gratitude bursting forth for the extraordinary beauty of this life. You may cry at first and then laugh, and then exist simply in peace. This is a way to thrive.
Sara Wiseman is an author, spiritual teacher, and intuitive who has taught thousands of students to create a direct connection to the divine through her many books, courses, radio shows, podcasts, and private sessions. She writes regularly for DailyOM. Sara lives in Oregon.