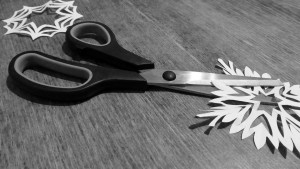 In our culture, guilt seems to have become as synonymous with the holidays as spiced cider. But for what purpose? Here's what I think: as in most cases, there isn't a viable purpose for guilt. If you love your family and friends, you love them, and it has absolutely nothing to do with whether or not you send them a card, or get them something comparable to what they get you, or get them anything at all for that matter! Love is enough. 
What's more, the less guilt you feel, the less toxic energy you generate, and the clearer a channel you are for what really matters and what really benefits every person and every relationship – namely, love.
So this holiday season, let's work together to change the paradigm. How? Here are my proposals. You might think of it as The Guilt-Free Holiday Manifesto.  
1. Tune into yourself and do what feels right. With such a focus on tradition, and "what everyone does," and, "what we always do," and "what we did last year," our own natural feelings and inclinations can sometimes get lost in the noise. But this year, when an activity is proposed, or when you start to order the same gift cards for everyone that you did last year, take a moment. Think, "do I really want to do this? Does this really feel right to me? Does it make me feel energized and happy when I think of doing this?" If not, don't do it. Then think, "What does feel right to me?" Which brings us to…
2. Everything you do for the holidays, do it out of love and joy. If you can't do it out of love and joy, don't do it. If you feel worried that you're extending your finances past a comfortable limit, think of something that does feel comfortable to you, or take a moment to connect with the love in your heart and then see where it intuitively leads you. Love isn't measured in how much money you spend, or how drained you feel at the end of the day – so do everyone a favor (including yourself!) and be a beacon of true holiday cheer by refusing to do anything that doesn't naturally flow from a place of love and joy.
3. Refuse to feel obligated to do anything. This time of year, for many of us, a sense of obligation can be so strong! In fact, when we begin to follow the two above recommendations for the first time, we can sometimes still feel so drained by the sense of obligation that we are used to feeling, that it seems impossible to do anything out of love or joy. So if this is the case with you, here is what I'm proposing: don't! If you need to, take a year off. Tell your family and friends that they are welcome to do whatever they like for you for the holidays, but that you don't need any gifts at all because you are going to take a year off of gift giving and holiday preparations so that you can focus on the true spirit of the season, which is love! You might be surprised by the domino effect of relief that you set in motion. Or, you might encounter some old guilt demons. Either way, be present and go through what you need to go through to finally experience the liberation that comes from knowing that you are not obligated to do any single thing. You are free.
4. Refuse to expect anyone else to do anything. And then there is the other side of the coin. The other people. When we are in a habit of experiencing guilt and obligation around the holidays, we often expect other people to be in that habit as well. So, for example, if you don't receive a card or a gift from someone you usually receive a card and a gift from, refuse to take it personally. Remember that the whole thing is optional, and it in no way needs to reflect how much someone does or does not love you or value your relationship.
5. Focus on love. When we focus on love and follow the above suggestions, the holidays can regain their inherent qualities of joyful exuberance. Preparing from them no longer has to be a chore – it becomes a divine art project and a way to bring light and warmth to your heart during this dark time of the year.  
6. Spread the word! Let's change the paradigm, shift our cultural consciousness, and truly bring joy to the world. 
(Happy holidays!)