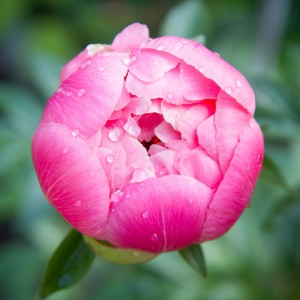 Do you have a favorite flower? Did you know that you can employ your relationship with this flower to gain insight into your life path?
Before I guide you through some steps that will allow you to do just that, let me use myself as an example for how it works.
My favorite flowers are lilacs. When I really think about why I love them so much, it's because they have a sweet other-worldliness that transports me to an emotional and spiritual state that is beyond time and beyond the illusions of death and separation. To describe this feeling further, it's like the feeling of connecting with a deceased loved one in a dream – that sweet overwhelming reminder that in truth, there is no death, there is only transition from one state to another, and what we call death is actually quite liberating and beautiful.
This is parallel to my life path, and the overarching karmic patterns in my life in many ways. First, I was born into a funeral chapel family: my family has owned a funeral chapel in my small hometown for generations. To this day, I love visiting the funeral chapel, as the fact that it is a place where people go to celebrate and connect with the spirits of their deceased loved ones gives it that same magical, otherworldly quality that lilacs have. Second, the overarching theme of my career (i.e. my writing and feng shui work) has to do with reuniting the seeming divide between seen and unseen, known and unknown. It's about bringing more consciousness to both the darkness and the light, and the space between the worlds, for the purpose of healing, clearing, and transmutation. And, interestingly, lilacs have traditionally been associated with exorcisms and clearings, which also parallels my work of space clearing and liberating stuck energy within our homes and our lives.
…Kinda neat, right? So, here's how you can discover what your favorite flower has to tell you about your unique life path.
1. Bring the flower to mind, along with all the sensory things you love the most about this flower – color, scent, texture, etc. You might, in your mind's eye, imagine inhaling the flower's scent, and gazing at it as it gently sways in the sunlight.
2. Ask yourself, "Why do I love this flower so much? What feeling does it give me? If I had to describe this feeling in an emotional way, what would it be? If I had to describe this flower's personality and unique spiritual wisdom, what would it be?" Write your answers (as many as you can think of for each question) in a journal or notebook. Take your time: go deep and be thorough.
3. Look at what you've written and notice the karmic patterns in your life that mirror the spiritual and emotional energy that you receive from your relationship with this flower. If you already feel very aligned with your ideal life path, notice the ways that the things you've written reinforce and add dimension to it. If you're not yet consciously aligned with your ideal life path, see if you can glean any clues about where your authentic joy truly lies, and how you might take steps to express it in the physical world.
4. Optional step: research the traditional magical and spiritual connotations of your favorite flower. You'll very often find that others have recognized similar energetic qualities to the ones that stand out to you. You may also receive additional insight into the significance of your favorite flower as it pertains to your life path. (For this purpose, you might check out this post, and/or my book, The Magic of Flowers.)
If you feel motivated, share what you've learned in the comments!