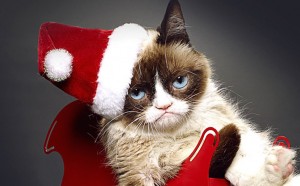 Maybe you thrive during the holiday season and feel absolute and total joy as soon as it rolls around.
If so, how wonderful! Also, this post is not for you.
To illustrate what I'm calling "the holiday problem," I'm going to tell you a story. When I was in my early 20's, I left California to spend a brief time living in St. Louis. This just happened to be a year the Rams went to the Super Bowl. And everywhere I went—the gym, the bank, the supermarket, etc.—people wanted to bond with me about how wonderful and exciting it was. As a non-native and a non-sports fan, it began to feel like a citywide campaign to make me feel left out.
Although, all the while, I knew no one was trying to make me feel left out. I also knew there was nothing wrong with their excitement. I just didn't share it. And, frankly, the relentless social pressure to do so began to feel extremely…well, irritating. Especially because I felt like a bad person for secretly resenting everyone else's joy.
This is very similar to how many of us feel during the holiday season: irritated, resentful, and secretly wondering what our problem is, and why we can't just buck up and revel in all the cheer.
Some of us might feel this way because we're not Christian, and the mainstream focus is mostly on Christmas, which is obviously a Christian holiday. Others might feel this way because we're appalled by the commercialism and environmental waste. Still others might feel this way because our family is far away, or we've recently experienced a tragedy or heartbreak, and the bright lights and merry tunes provide a lonely contrast to our grief.
But there is an even more fundamental issue that underlies all these issues, and I imagine chips away even at the seemingly hap-happiest among us: the pressure to be cheery. The pressure to be cozy. The pressure to "have a wonderful holiday."
Because I don't know about you, but if there's one thing that kills my exuberance, it's the pressure to be exuberant. Am I right?
So here's what I'm proposing: go ahead and let your inner grinch out. Grump and grouch and scrooge it up. Make a joke out of your bad attitude. Let it liberate you.
I know this may sound counterintuitive, but hear me out: when I let my inner scrooge out, I actually like the season more. I'm able to let other people enjoy the season in the way they want to, knowing there is absolutely no reason I need to do the same. I feel fabulous—cheery even—because I don't pretend to feel something I don't or be someone I'm not. Hey, if Christmas Day rolls around and I feel like wearing all black and watching Donnie Darko, I'm going to do it! So whatever everyone else wants to do is OK too.
Being as scroogie as I wanna be also frees me up to enjoy the aspects of the season I actually do like, which for me include decorating and giving gifts…Mind you, if I believe I absolutely must be excited about decorating and giving gifts, I will strongly dislike doing these things. But if I'm free to do them or not, according to my mood, I feel great.

Because, of course, the truth is that we don't have to love the season. We are free to do so if we so desire, but it's absolutely not a requirement.