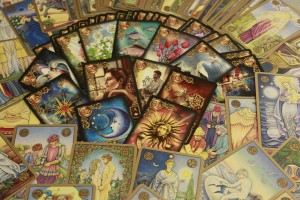 A lot of us magical folk love using tarot or oracle cards, and I'm no exception. But when your deck of cards is at home or it's just not appropriate to use it at any given  moment, no problem! If you have a deck that you know well and use often, simply clear your mind, consider your question or quandary, and watch your mind's eye for a card image from the deck to rise into your consciousness.
Play with this a bit: you might find that shuffling the deck in your mind's eye and then drawing one helps, or (if you're like me) you'll just like to wait for an image to float to the top of your mind. This technique lends itself well to a single-card reading, although you might also try a simple three-card reading where the first card indicates the past or underlying cause of the issue, the second indicates the present or main aspect of the issue, and the third indicates the future or the recommended course of action regarding the issue.
If you don't have a deck that you know and love, or if you just want to open your mind to even more possibilities, you can do the same technique but allow any image, symbol, or word to float to the top of your mind. Chances are, once you receive an image (and please trust it, whatever it is, even if you think you made it up), you'll understand its significance. If you don't, just apply my boyfriend Ted's famous dream interpretation technique, and ask yourself, "If I had to guess, what would it mean? How would it apply?"
This is an excerpt from Holistic Energy Magic.