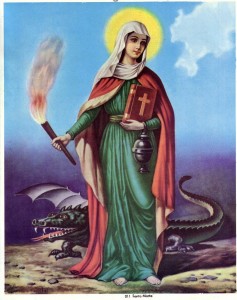 Yesterday, I received an excellent question via twitter: which goddesses might one call on for clutter clearing? My answer: Brighid, Hestia, or St. Martha, or Kali for serious energy un-sticking. But it was such an excellent question, I though I'd take this more expansive format to provide a bit more detail.
Brighid
A beloved Celtic fire goddess of poetry, empowerment, harmony, and aesthetic beauty (later enlisted as a Catholic saint), Brighid is an excellent goddess to call on to establish harmony and balance in your body, mind, spirit, home, and life. She can be an ideal divine ally and support system when it comes to raising vibrations and fine-tuning the energy field of your space. Create a Brighid's cross and/or light a red candle and say a simple invocation to enlish Brighid's clutter clearing support.
Hestia
The classical Greek Goddess of hearth and home, Hestia is like the heart-light or hearth-fire that brings a feeling of warmth and aliveness to the home. Invoke her for all things home-related, including clutter clearing, beautification, and establishing family and household harmony. Find a central location (a fireplace or stovetop often feels right), and light her 1-3 red and/or orange candles. A stick of orange or cinnamon incense would also be a nice touch.
Saint Martha
Finally, for those of you who often connect with Catholic saints as divinities (as I do, even though I'm not Catholic), you might consider calling on Saint Martha for clutter clearing support. As you can see and feel from the image, she has a powerful presence. In folk (i.e. unofficial) traditions, she's called "Martha the Dominator" and has a fierce presence. Aligned with the deity Chango in Santeria and Yoruba traditions, she's known for taming a dragon (pictured) and is invoked for protection from and victory over all forms of negativity and challenging energy (including clutter). Light her a green candle and request her support in releasing and triumphing over your clutter.
Kali
File Kali under "big guns." Do not, I repeat, do not call on her unless you are in dire need of exceptionally powerful energy un-sticking. It would be like using a blowtorch to light a cigarette: don't do it. On the other hand, Kali – the Hindu goddess of endings, transitions, cataclysmic changes, and feminine empowerment (think Thelma and Louise blowing up that truck) – is an excellent ally when you have a huge metaphorical bonfire of stuck-ness to set ablaze. To invoke her for this purpose, you might find an image of her. Place it on your altar and light her a black or red candle and a stick of incense. Ask her assistance in getting your energy moving and clearing old stuff out of your house and consciousness, then put on a loud and empowering song and dance wildly. After the song is over, commence clearing.
Do you have a divine helper you like to call on for clutter clearing? Please share!