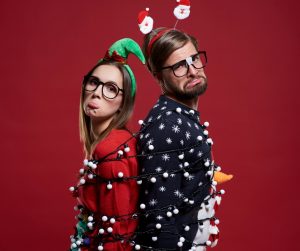 Oh honey, I am SO BORED by all the bellyaching about Mercury retrograde.
While I've touted the blessings of Mercury retrograde periods before (like here and here), I thought I'd take this opportunity to discuss some reasons why and how we can maximize the benefits of this much maligned astrological occurrence when it happens to take place during the holidays.
Mercury retrograde + the holidays are awesome because…
We are singularly poised to heal old, confusing family communication patterns for good. 
The astrological forces at work at this time help us gain immense clarity on things that may have formerly been hidden in a fog. Like going over a contract with a fine toothed comb, we can clearly see where we've made agreements that don't serve us and let them go. (This won't necessarily heal the communication patterns in other family members, but healing them in ourselves is the important thing anyway. And who knows? It could be contagious.)
We can use the vacation time to go within and discover what isn't working in our lives so we can release it.
If we're lucky enough to have some extra days off during the holidays, we can use them to meditate and journal on how we're approaching our life, and to fine tune our approach in the wisest of ways. Look at what motivates you, at what your mission is, and at where you spend the bulk of your time. Are these things serving you? Are they in alignment with your highest vision for your life? The answers to these questions will be especially easy to discern during this time, and you will be particularly empowered to make the positive changes you want to make.
The longer nights are perfect for doing shadow work: for bringing old challenges and heartaches out of the darkness and into the light so we can heal them.
A lot of what passes for bad energy during Mercury retrograde periods is simply resistance to looking at what isn't working. In other words, when Mercury is NOT retrograde, it's easier to kid yourself or gloss over the things that aren't healed yet or don't feel quite right. Take advantage of these long, dark Mercury retrograde nights to gaze bravely into the dark and bring this old stuff into the light. If you breathe through it and set the intention to approach your shadow work with courage, even the least comfortable feeling can move through you and be released for good.
We can restructure and reformulate our relationship to holiday customs that don't feel authentic to us and – in the process – reclaim our power.
Everything is energy. With this in mind, does it really serve anyone for you to do engage in holiday customs that don't feel right to you? That you are perhaps forcing on yourself out of guilt, habit, or obligation? Even if you have to have an uncomfortable or heated conversation, your authentic decision to spend time and energy only on customs that you honestly enjoy can only end up empowering everyone. Even if they think they do, no one ultimately benefits from your strained participation in things you don't actually like. More importantly, you will reclaim your power when you speak and act your truth, and the benefits will last for decades to come.
We can utilize our new planners or calendars to help us restructure our schedules in ways that will serve us better for the year ahead.
It's new planner time! Even though the general wisdom shies away from written agreements and communications during Mercury retrograde periods, in truth, according to astrologer Mark Husson, "More than 50 % of the top 100 Fortune 500 businesses were started under the Mercury retrograde." When you understand the dynamics of Mercury retrograde, this isn't surprising: these periods allow us to get very clear so that we can remedy problems or challenges we wouldn't otherwise see. Use this energy to structure your goals and time commitments in ways that serve your most positive vision for your life.
We can learn to laugh at any extra hassles, missed connections, or communication snafus, and release the belief that things have to look a certain way in order for us to be happy. And then we can be free.
And this brings us to what I see as the ultimate blessing of Mercury retrograde: it teaches us to release conditional happiness. When we operate under the belief that things have to go a certain way or look a certain way in order for us to feel good about our lives, we will never, ever, ever be satisfied. If, on the other hand, we roll with the punches and laugh when unexpected occurrences fly into our experience, every door of joy opens before us and we are free. Mercury retrograde periods blessedly illuminate what we need to let go of in order to be in this state of divine trust and blissful flow.