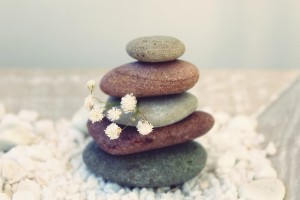 We are a word-driven species. What's more, our life experience is totally filtered through our thoughts and conscious awareness. As such, words have an endless amount of power to shape the conditions of our lives. Today, with the moon in the airy and balancing sign of Libra, I thought I'd offer a few affirmation that help bring us into balance, i.e. by helping us feel more empowered, energized, healthy, grounded, clear, and generally comfortable in our own skin.
You might choose one and write a whole page of it in your journal, set the timer for 10 minutes and chant it over and over again softly, or just repeat it over and over again silently throughout the day, gently coming back to it whenever you notice your mind wandering. (That last one is a great idea if you feel especially out of whack and you want to shift and redesign your internal landscape in a powerful way.) 
Order, harmony, and balance are now established in my mind, body, and affairs. This one is from my favorite affirmation book, The Wisdom of Florence Scovel Shinn. For a span of at least three months, I wrote a whole page of it in my journal every single morning. And whoa, did it ever make a difference.
I am awake to the magic of life. I am safe and all is well. This well-rounded meditation (composed by me with a hint of Louise Hay thrown in at the end), sensitizes us and awakens us to the miracles in the moment while bringing it all down to earth by grounding us in a feeling of safety.
North, South, East, West: I am lucky, I am blessed. Simple, catchy, and fun, this one helps us to feel at home in the center of our own universe while opening doors of possibilities and blessings.