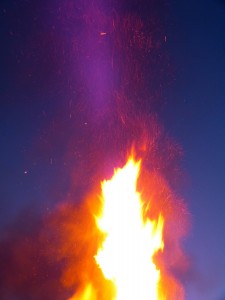 My daily glance at Llewellyn's Magical Almanac told me that today is Saint Germain Day. Immediately, I thought, "I love Saint Germain! He has a day? Who knew? Perhaps I'll write a blog post about him." However, upon Googling "Saint Germain Day May 28," I learned that today is actually not a day dedicated to the dashing alchemical ascended master so revered for his transmuting violet flame, but a day dedicated to an austere Frankish bishop from the 6th century. Still, once I had the idea for a blog post, it sort of took root in my mind and expectations for the day. So, here goes.
First of all, Saint Germain is not a Catholic saint. The word "Saint" just happens to be a part of his name. And though he's most popular in New Age circles, he is happy to work with magical practitioners from all walks of life. Those of us who specialize in alchemical magic – in other words, magic related to cleansing, releasing, transforming – are particularly suited to work with him. Associated with a famous count from the 1700's whom Wikipedia says "has been variously described as a courtier, adventurer, charlatan, inventor, alchemist, pianist, violinist, and amateur composer," he was popularized as a spiritual helper by Madame Blavatsky and the Theosophical Society, and has been revered since then by societies such as the Rosicrucians and Saint Germain Foundation.
But while his history is mysterious and fascinating, what's even more riveting is the experience of working with Saint Germain in the spiritual plane. I love calling on him and asking him to surround and fill me, my home, or any situation with his violet flame of transmutation. I then visualize/imagine/feel a consuming, blindingly bright, purple flame burning away all that is dead, stuck, or unhelpful, and transmuting it into warmth, light, and positive movement. It's highly cleansing, purifying, and activating, and it begins to work immediately.
I have a little book by Elizabeth Clare Prophet called Violet Flame to Heal Body, Mind, and Soul. In it, she talks about a number of what she calls "decrees" (a lot like invocations or affirmations) which you can repeat as you meditate or go about your day, while visualizing the violet flame. I have adapted one of hers into a decree that I particularly love. It is:
"I AM a being of violet fire.
I AM the purity of divine desire.
Raging, swirling, burning bright,
All is filled with violet light."
I have a really great white noise app by TM Soft (it was only $1.99) that allows you to mix your white noise with music. For my violet flame meditation, I love playing my instrumental spiritual playlist and mixing it with the "fire" setting on the white noise app. Then, I set a timer for 10 minutes and repeat the decree above while visualizing gorgeous violet flame surrounding and filling me, my home, and my entire life experience.
For powerful cleansing and holistic transformation, you might try this 10 minute meditation and chant for 10 days in a row. It's actually really great timing right now, since the moon is just past full and so many astrological aspects are in effect for positive movement and change.