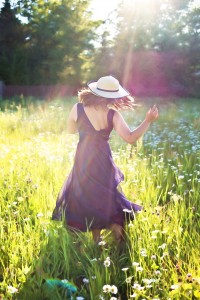 Shamans and mystics of all varieties have incorporated music into their healing practices since time immemorial. Consider that in cinema (our most modern incarnation of shamanic storytelling), music can turn an otherwise flat scene into a hilarious scene, or a terrifying scene, or a scene that makes everyone cry. That's why, if you want to begin to get more familiar with your essence, and to smooth the transition to a harmonious synchronization of your inner and outer realities, creating a personal essence playlist is a great place to start. You might add to it and change it over the next few weeks, and then create a new one entirely at some point, but let's start here:
Create a playlist for yourself containing at least eight (but possibly twelve or more) songs that embody the qualities, energies, and conditions that you'd like to feel and experience in your life. Look for songs that "click" for you and help you feel empowered and brave. You may find it helpful to get a little wild and go outside your usual music comfort zone…Don't overthink it. There is no right or wrong, as long as you find songs that you intuitively feel resonate with where you'd like to be and how you'd like to feel.
…Once you've created your playlist, humor me for a minute, will you? When no one else is around, choose at least two songs and dance to them. (Or get even crazier and let the universe choose them by pressing "shuffle.") Be silly and have fun. Turn up the music, relax, and let your body move however it wants to move. In the spirit of play, let yourself begin to embody the qualities in the music. Dancing is a very powerful exercise for getting your energy moving, liberating trapped energy, and getting us in touch with our true selves. Even if it seems like nothing is happening, believe me: this exercise will very quickly and ideally open you up to positive change and clear the way for your most successful magical fashion endeavors. Feel free to repeat it as desired. It will also be beneficial to listen to your playlist at convenient times throughout your daily routine: in your car, while your cleaning house, etc.
(This is an excerpt from the book Magical Fashionista: Dress for the Life You Want.)