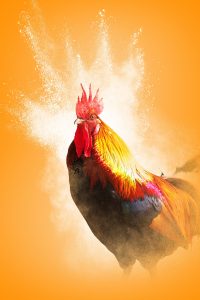 The Year of the Yin Fire Rooster is upon us! Here are some practical ways to align harmoniously with the fresh new energy on the horizon.
1. Update Your Wardrobe. The rooster loves luxury and self-adornment. Take some time to clear out the stuff you don't love and to find the stuff you do. You don't have to spend a bunch of money – you can shop at thrift or consignment stores – but consider treating yourself to something special, like some designer sunglasses or perfume. Stuff like this will not only feel especially right this year, it will also activate your prosperity energy by attuning you to the harmonious frequencies of this lunar cycle.
2. Take Joy in the Little Things. Do you realize how many little things you are doing all the time? Things like getting ready for bed, chopping vegetables, or putting gas in your car? The rooster year allows us to see the beauty and magic in the details, so do your best to fill every moment – even seemingly mundane ones – with unadulterated awareness and inspiration. Don't just throw on any old pajamas: choose the ones that you feel beautiful in. Revel in the earthy magic of carrots as you chop them. Thank the Universe for your trusty car as you fill it with gas.
3. Start a Coven or Spirit Circle. If you don't already have one, this is a good time to assemble a like-minded group of spiritual folk with whom you can regularly gather for things like rituals, meditations, intention setting, and prayers. Socially speaking, there are no substitutes for sharing spirituality with others. And this year, reliable, local social structures will feel so very nourishing and right. You don't need to be formal or fancy about it – just get together and work magic from your heart. (Not sure where to meet these folks? Start attending local pagan gatherings, psychic fairs, or spiritual learning centers and see what friendships start to naturally develop. Or you can always check meetup.com, where you might even consider starting a group yourself.)
4. Clear Out Your Cupboards and Fridge. As I mentioned above, the rooster loves both luxury and the little things. And what could possibly be more luxurious than having all the little things in your kitchen in order? As an added rooster-friendly bonus, this will lend itself to preparing foodie-quality meals and treats with the maximum level of present moment joy.
5. Make Cookies (or Tamales, or Banana Bread) for Other People. Speaking of the kitchen, if you like spending time there, consider spending some time preparing goodies for other people: your co-workers, neighbors, or coven…Or even the people who live under your own roof! In this excellent article about the Year of the Yin Fire Rooster, Karen Carrasco (a feng shui mentor of mine) asks, "How healthy are your sources of food and friendship? This is the year to pour more loving, nurturing ch'i [energy] into the things that truly sustain you."
6. Volunteer Locally. Karen Carrasco also writes, "…the Rooster year is a finicky one. In it, we become overly sensitive to anything that comes near to our own sphere of influence. We can transform this into a positive quality by steadfastly remaining focused locally, letting the global arena take care of itself." Certainly, there currently appears to be great discord at the global and national levels. Creating measurable positive change in our own backyard will act on our own hearts as a healing balm, while we simultaneously support the communities we love.
7. Wake Up Early and Do Stuff. Just as the rooster crows at the crack of dawn, we will feel great this year if we set the alarm a little earlier to accomplish the stuff we really want to do. For example, just five daily minutes of meditation can make all the difference in your day and life. So can 10 daily minutes of exercise or 20 daily minutes of chipping away at that book you've always wanted to write. Over time, those small increments can turn out to be actually pretty huge in the overall pattern of our lives.
8. Practice Random Acts of Kindness. Random acts of kindness are all the rage again these days, and with good reason: they cheer us up and bring immense joy to the hearts of others as well. And this is right smack in the realm of the Yin Fire Rooster. For ideas, check out this post I wrote about magical acts of kindness, or this one on treehugger.com with a good sampling of garden variety random acts of kindness.
P.S. I would love for you to join our awesomely supportive online magical community over at The Good Vibe Tribe! Learn more about it and get started on your trial membership here.