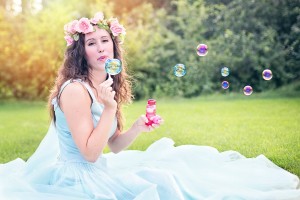 By now, you've probably heard about the comprehensive, clinically proven benefits of meditation.
But let's be honest: what good are those benefits if you don't actually ever, well, meditate?
Because lots of people love the concept of meditation, while the act itself never seems to really materialize. It's the just sitting there that seems to be a deterrent: in this world of do-do-do and go-go-go, for many, putting the brakes on can feel unpleasant to the point of being unbearable.
That's why I thought I'd provide these five meditative meditation alternatives. By doing at least one of these things for just a short time every day, you'll be getting a lot of the same benefits of meditating. You'll also be getting into the very positive habit of setting aside time for serenity, and for your own self care, which will in turn open the door to actually (one day, maybe?) meditating.
So, in lieu of meditation, try this: set a timer for at least 5 minutes, and then do one of the following. In time, you can work your way up to 10, 15, or even 20, but 5 is great too. Especially when you consider that setting aside those 5 minutes will make all your other minutes significantly more enjoyable and productive.
1. Pet your cat or dog. According to WebMd, "It only takes a few minutes with a dog or cat…to feel less anxious and less stressed. Your body actually goes through physical changes in that time that make a difference in your mood. The level of cortisol, a hormone associated with stress, is lowered."
2. Dance. BerkeleyWellness.com states that, "Dancing…has been shown to reduce depression, anxiety, and stress and boost self-esteem, body image, coping ability, and overall sense of well-being, with the benefits lasting over time."
3. Read a novel. A new article in The New Yorker says that, "Reading has been shown to put our brains into a pleasurable trance-like state, similar to meditation, and it brings the same health benefits of deep relaxation and inner calm. Regular readers sleep better, have lower stress levels, higher self-esteem, and lower rates of depression than non-readers."
4. Take a walk. A number of studies have shown that walking outside (especially barefoot!) blesses us with numerous perks, including significantly reducing the stress hormone cortisol, which in turn strengthens one's immune system and overall state of mind.
5. Blow bubbles. I'm not sure if any studies have been done on blowing bubbles, but the fact remains that like meditation, bubble blowing promotes deep, conscious breathing and present moment awareness. Also, simply being outside has many proven health benefits that are similar in many ways to those of meditation.